"You can live your life by chance or by choice. It's really up to you" – Robin Sharma
I'm in short but sweet mode today so quick and dirty updates are the rage.Today, I'm talking about Bungee Jumping. And BaZi.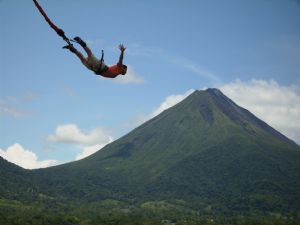 One of my favourite questions that I like to pose to clients (I'm one of those @#$#@#%$@$ BaZi consultants that doesn't like to give answers you know – got to make you WORK in my session) is the Bungee Jump Question.
(incidentally, I have NEVER done a Bungee jump. I have a fear of heights).
You decide you're going to do a bungee jump. You've been strapped up. And are now standing on the windy platform, starring at your feet, down at either what makes you feel a rush of adrenaline, or the cold knife of fear.
Typically in a bungee jump, you are supposed to jump. But if for reasons unknown, you, chicken out. Well, usually they push you off the platform anyway.
So, you are going to end up falling through the air, with some rope attached to your feet EITHER WAY.
My question is this: would you rather JUMP? Or be pushed?
Remember, the outcome is the same.
People who want to be in control of their destiny will say JUMP.
People who let external forces control their life, will hem and haw and give me five thousand excuses why they would never sign up for a bungee jump or that there is no difference since the outcome is the same.
WRONG. There is a difference. And that difference is called FREE WILL.
The outcome is the same. But the journey there is different. Someone who is pushed did not exercise a choice of free will. They exercised NO WILL. They abdicated the responsibility of their choice to someone else. Because they cannot face the idea of living with their choice.
If I'm going to be doing something I don't want to do, then I do it on my terms.
If I have to jump off that bungee jump platform one way or another, I want to jump EMBRACING MY FEAR and GLORYING IN THE MOMENT.
Not scared crapless screaming for my mother all the way down.
I want it to be a MOMENT in my life, even if it is a moment I don't necessarily want to have.
So take the Bungee Jump BaZi theory test and ask yourself – would I jump? Or was I pushed? And ask yourself, *really*, which is the better choice.
"Listen, kid: he gave these bozos the greatest gift in the universe – you think he didn't give it to us, too?"
Read More